Cultural Performances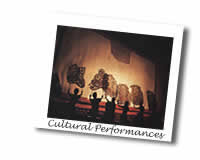 Details of current programmes and events can generally be found in Bangkok's major English-language newspapers, namely Bangkok Post and The Nation.




Theatres

The National Theatre , located on Na Phra That Road next to the National Museum, is the official centre of Thai classical performance. Call : 0-2224-1342 for a current programme.

Thailand Cultural Centre , on Ratchadaphisek Road, is a fully integrated venue for social education and cultural activities. Call 0 2247 0028 ext. 109 or visit www.thai.net/tcc/ for a current programme.

Chalerm Krung Royal Theatre is located on Charoen Krung Road (New Road) near the Old Siam Plaza. Thai dramas and plays are usually held while Khon or Thai musical dance drama is a special event that is staged occasionally. Call: 0-2225-8757-8, 0-2222- 1325 for more information.

Patravadi Theatre is near Wat Rakhang, Thon Buri. Renowned for its lavish productions, this outdoor theatre has gained popularity through its modern adaptations of classical Asian literature, with each play demonstrating an ingenious blend of various theatrical techniques. Showtime is on Friday, Saturday, and Sunday. Call : 0- 2412-7287-8 for a current programme.

Bangkok Playhouse is located on Phetchaburi Road. This private theatre hosts modern dramas. Call : 0-2679-8548, 0-2319-7641-4 for a current programme.




Cultural Theme Parks

Rose Garden is 32 kilometres west of Bangkok on Phetkasem Road in Nakhon Pathom province. An attractive show commences daily at 2.45 p.m. There is for instance, Thai folk dancing, Thai boxing, sword fighting demonstrations, and an elephant show. Admission fee is 300 baht.

Baan Thai is located in 'Dream World' amusement park at Km. 7 of Rangsit-Nakhon Nayok Road. Visitors can experience the traditional Thai culture and lifestyles as well as enjoy typical food and spectacular cultural shows. Showtimes are 12 noon and 1 p.m.

Dinner and Thai Classical Dance
Reservations can be made through travel agents or the following restuarants:

Sala Rim Nam A classic Thai pavilion sets the stage for sumptuous Thai luncheon buffets and set-dinner feasts. A la carte dinners nightly riverside at the Rim Naam Terrace.
Menu Highlights
- Mee Grob Herb crispy noobles
- Yaam Talay Spiced seafood salad
- Tom Yaam Goong Spiced soup of blue river prawns
- Gaeng Gari Gai Yellow curry with chicken
- Moo Ob Gub Grathiem Prig Thai Roasted pork marinated with garlic and pepper
- Phad Paag Stirfried vegetables with oyster sauce
- Khow Hommali Steamed jasmine rice
- Polamai Gub Khanom Thai Carved fresh fruits and Thai sweets
- Cha-Cafe Tea or Coffee
Operate:Daily 5:00pm - 10:00pm Dinner 7pm Classical Thai dance performance 8:30pm daily.

Thailand Tonight Set on the River of Kings, Thailand Tonight combines the beauty and majesty of one of the best Thai cultural shows in Bangkok with Thai & international BBQ and Shopping for Thai Arts & Crafts. All are presented in a unique environment under thousands of stars by the Chao Phraya River in all its bustling glory. Located on the outside lower terrace next to the Spirit House and Bho Tree
Daily 6:30pm-10pm
Seat 180 outdoors